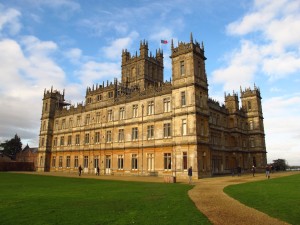 "One forgets about parenthood. The on and on-ness of it." –Violet, the Dowager Countess.
I know I'm a little late to the game, but I've been catching up on Downton Abbey before too many spoilers unwittingly come my way. We know Maggie Smith gets to deliver the best, most humorous lines, but this one left me virtually rolling on the floor the other night. (Season 3, episode 8)
It pretty much sums up exactly how I'm feeling these days, navigating the waters of middle school education and taking on extra work as a substitute (no, not much has changed about the life as a sub since you remember those days from your own schooling, except now there are cell phones), especially when I combine that work with the parenting challenges I'm facing.
There were great things about being an only child, and I'm firmly convinced that there is no perfect type of family. But daily I'm experiencing in my parenting life something I rarely encountered growing up as an only: sibling rivalry. It's compounded by a day spent listening to my young students vocalize the same complaints: "She's bugging me!" "He took the book I was reading!"
Aarrrgh!  It just keeps going!
I'm learning a lot personally this year as I navigate these discipline stressors.  I'm amazed at how often I'm required to be emotionally centered. Or, at any rate, how often I have to find the balance within myself to generate the emotional intelligence to deliver an appropriate, adult response.  The teenager still living inside me wants to roll my eyes and mouth off some sarcastic response like, "Oh, yeah? Well, you're ALL bugging ME!" But the adult in me knows that this isn't really going to help anything, and it may make it worse.
Instead, I have to take a few deep breaths and engage some empathy. Do I know what it is to feel like life is unfair, even if the details differ? (Hello, yes, I'm writing a whole blog post here about how tough it is to manage all the child development jobs I have right now.) Can I remember how frustrating it was to sit in school with kids I just didn't like? (Yes. . . [shudders]) Are there times when I feel just plain tired or frustrated and all I want is for people to be patient and loving with me?
Pretty much, all the time.
Dr. John Gottman is a psychology professor emeritus.  His work centers around helping us understanding our emotions—how to develop, as he calls it, emotional intelligence, and then how to use specific skills to channel those emotions in the painful times, especially in family and marriage relationships.  He says, ""Much of today's popular advice to parents ignores emotion. . . Instead it relies on child-rearing theories that address children's misbehavior, but disregards the feelings that underlie that misbehavior. The ultimate goal of raising children should not be simply to have an obedient and compliant child. Most parents hope for much more for their children."
Georgia Anderson, a Gottman trained Educator, will bring some of these skills to our Kindermusik studio on April 21 at 6:30, specifically focusing on the language of encouragement. You can see the steps on her blog (describe situations using facts, share your feelings and effects of the situation, and show gratitude in meaningful ways), but the best part of coming to a coaching session is the time we get to practice these skills so they become our first responses to parenting challenges rather than the "wish I coulda done that differently" thoughts after-the-fact.
Yes, at Song of the Heart, we have Kindermusik classes.  We encourage ongoing musical lessons through ukulele lessons and we continually broaden your child's interests through other programs, like Spanish classes this summer. But we are in the business of educating the whole child, and guiding you on your parenting journey is one way we can do this. Can't wait to see you there!