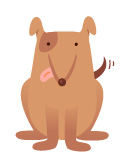 As promised, here is another installment of making the most of summer camp, along with a nifty pin-able image of a cute dog to help you bookmark the page.
In My Garden:
Plant a garden together.  Roots, Shoots, Buckets and Boots is one of my favorite books to draw from for inspiration.  How delicious does a pizza garden sound?
Visit Red Butte Garden.  They have an especially fantastic children's area.
Go to the farmer's market on Saturday morning downtown.
Visit the farm animals at Wheeler Farm
Make and paint a birdhouse—here is a plan for one that claims to cost only $2!
Watch the Secret Garden together.
Beach Days:
Visit Mountain View Park—they've got a fantastic splash pad.
Have a good, old-fashioned water fight.  Or let the kids run through the sprinklers.
Introduce your kids to the Beach Boys.
Get a large plastic tub, fill it with water, throw in some household items (including colanders and measuring cups), and let your kids go to town.
Pop some popcorn, eat some Swedish fish, and pop in Finding Nemo.
More to come next week!